by Alan Davidson
Here are my top-ten fave book from the last year. I should say they are not all newly published in 2013. Some are new to me. One sat on my book shelf for 25 years before I cracked it. But all of these authors and the wisdom found in their books had an impact on my own personal and spiritual growth. Please leave us a comment below and share your fave books from the past year.
10)  The Tapping Solution: A Revolutionary System For Stress-Free Living by Nick Ortner. My friend Nick scored big time with three weeks on the New York Times bestseller list. More importantly, Nick is a crystal clear writer and great ambassador for Tapping/Emotional Freedom Technique. Nick is your guy for a solid introduction to Tapping, the "try it on anything" healing technique.


9) Bench Pressed:A Judge Recounts the Many Blessings and Heavy Lessons of Hearing Immigration Asylum Cases by Susan L. Yarbrough. Judge Susan, my fave name for Her Honor Yarbrough, was a massage student of mine. She wanted to learn a body-centered healing skill to offset the demands of sitting on the bench. Susan has a simple, elegant writing style. She tells the stories of five people seeking asylum; one each for race, religion, nationality, social group, and political opinion.
Each asylum story includes three parts: the country's political climate the created the need for asylum, the person's unique story, and Susan's reflections on how the case haunted her…and changed her as a human being. Susan does a masterly job, with an economy of words, of sharing our global crisis's and the universal need to take in the strangers who need our care and attention.


8) Hold Me Tight: Seven Conversations for a LIFETIME of Love by Dr. Sue Johnson. Dr. Sue developed Emotionally Focused Couples Therapy, one of the most successful therapeutic approaches to building loving relationships. She fleshes out the insights of Attachment Theory of John Bowlby as they relate to adult intimate relationships. Each of the seven conversations is a portal into deeper and deeper levels of intimacy and vulnerability. As you can imagine each portal addresses aspects of our emotional wounds and the constant on-guard defenses that protect those wounds. And keep us from connecting and committing to the love we want.
7) Tapping into Wealth: How Emotional Freedom Technique (EFT) Can Help You Clear The Path To Making More Money by Margaret M. Lynch.  I'm mighty impressed by Margaret's book – spoiler alert, Margaret is personal friend. Margaret's insights into money, wealth manifestation, and our money programming (personal, family, and generational) is eye-opening. The actual tools for shattering my old money programming…and how to step powerfully, alive, vibrant, and worthy into earning my true value has already had an impact on my "bottom line." This book is NOT some airy-fairy "let's attract prosperity" woo-woo book. It's a training manual about getting deep down to your toe-nails and get real with your relationship to money.
I liked this book a lot. Margaret cuts through the woo-woo crap about wealth and prosperity. She invites us to take a deep, long conscious look at why we do the things we do around money.
6) The War of Art: Break Through the Blocks and Win Your Inner Creative Battles by Steven Pressfield. This little gem of a book is written to the writer, artist, and entrepreneur. As a writer and entrepreneur, I also listened to this treatise on resistance with the ears of a meditator. It turns out that the same voice of resistance that keeps me from embodying my soul purpose is the same voice that keeps me from sitting down at the computer every day to write my next book. Oprah thought so to when she invited Stephen as her guest on her Super Soul Sunday show.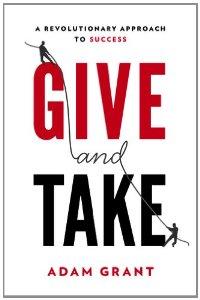 5)  Give and Take: A Revolutionary Approach to Success by Adam Grant. Hands down the best personal development book I heard all year. Adam Grant is the youngest tenured professor and highest-rated teacher at the Wharton Business School. He's also a record setting advertising director, junior Olympic springboard diver, and professional magician. Adam divides the world into three kinds of people: takers, givers, and matchers. Rich with the great stories and cutting edge research, Adam shows that givers really do finish last…and first. Givers actually inhabit both sides of bell curve when it comes to success. Surprisingly takers and matchers fall in the middle. Best section of the book is where Adam shows what separates the most successful givers from the push-overs and doormats of the giving scale.
4) The Power of Myth by Joseph Campbell with Bill Moyers. Knowing that I am an avid books-on-tape learner, Jerry Patchen, long time member of my spiritual family, sent me the DVDs to this old PBS special. He chided me to take the time to watch the visual feast as well as listen to Joseph's infinite wisdom (and Bill's most-excellent interview skills). Back in the late 1980's I had watched, fascinated, the interview series with myth maestro, Joseph Campbell. I also bought the book of Bill Moyers transcriptions that went with it (and never really opened it). Twenty-five years later, I listened with new ears. And I heard how Campbell, time after time, spoke to the ability of myth to take us out of ourselves and into the non-dual, enlightened place of knowing and experience the world. A delight to rediscover this book, and know how much my own understanding has evolved of two-plus decades.
3) Daring Greatly: How the Courage to Be Vulnerable Transforms the Way We Live, Love, Parent, and Lead by Brene Brown Ph.D., LSMW. I actually first listened to Daring Greatly in 2012 and gifted it to the Hirsh's, core members of my spiritual family. Joe and Marion liked it so much they gave it to everyone else  for Christmas cheer (though a gift on the corrosive effects of chronic shame isn't exactly Christmas cheer, Brene's call too vulnerability is the path of human healing). Joe and I led a Daring Greatly book study this spring. So I re-listened to, read, and highlighted the wit, wisdom, and powerful insights of this book.
1.7 Million  people have watched Brene Brown'[s "Power of Vulnerability" TED Talk. She is a Shame and Vulnerability researcher at the University of Houston, my home-town.  Her research shows a pathway for navigating the "shame that binds us" and offers a map for true personal growth. Def one of the best personal growth books in the last ten years. Every chapter is steeped with great stories, insights backed by rigorous science, and ways to free ourselves from the vice-grip of shame on our lives, our families, our work, and our communities. Highly recommended.
2) . True Purpose: 12 Strategies for Discovering the Difference You Are Meant to Make by Tim Kelley. I heard Tim Kelley speak at Marcia Weider's "Wealthy Visionary Conference" in February. I was impressed to see him use Carl Jung's Active Imagination process, or more specifically, Hal & Sidra Stone's Voice Dialogue process to access higher consciousness. It was a new twist on all the Big Mind meditation and Enlightened Tapping work I've done myself. Tim's twist is to access our own Highest Universal consciousness, to learn our True Purpose.  A light bulb went on for me and jump-started my own meditation, Enlightened Tapping practice. I did a deep dive into my own purpose, being very familiar with the map of the inner voices of my Personal Self, and higher conscious voices of my True Self. My grounding with the eastern mystical traditions allowed me to sense and experience some different qualities of purpose than Tim explores.
1) The Untethered Soul: the journey beyond yourself by Michael A. Stringer. My #1 cheerleader and fan, Marion Hirsch, started raving about Mickey Singer after seeing him on Oprah's "Super Soul Sunday," and binge reading his book.  By far the single best spiritual development book I've read in ten years. Mickey Singer has distilled 5,000 years of Hindu enlightenment into 177 pages of simple, plain English (which is no easy task). This book is at once easy to read, but more importantly, simple to implement. Not just a theory of liberation, but grounded in simple exercises that offer big results.
Marion and Joe, her husband, traveled to northern Florida to study with Mickey personally. Joe and I, with Marion's behind the scenes love and support, then taught a six week study group on the book and Mickey's 10 CD Audio set. During each session, we spent an hour talking through the deep insights of each chapter. The second hour we spent using my Enlightened Tapping Formula to embody those insights. One to the two profound breakthroughs I had this year was embodying the principles of The Untethered Soul. Highly, highly recommended.
Honorable Mention (My Guilty Pleasure)
The Closers by Michael Connelly – all the other books on this list are spiritual and personal development. But this is a tip of the hat to my guilty pleasure; I love reading good murder mystery books. Michael Connelly has written twenty books starring his anti-hero, L.A.P.D. cold case detective, Harry Bosch. This year I read all twenty books with Bosch on the case. I chose The Closers because it spells out Harry's personal code, "Everyone matters or no one matters." A code as important to all of us dedicated to personal, spiritual, and world healing as it is to a fictional hard-boiled detective.
Please leave  me a comment and let me know your fave books of 2013! Thanks for reading…(and sharing).