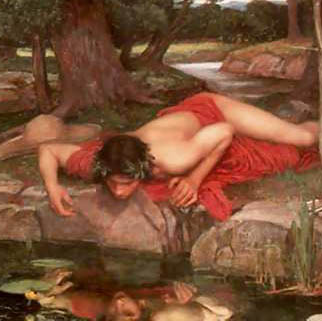 Paris Hilton, with her cellphone full of pictures of herself, is here. As are Lindsay Lohan, who declared herself a role model to ''younger generations as well as generations older than me''; Britney Spears, the teen-queen train wreck; Barry Bonds, the probably-not-all-natural home-run hero; and Bode Miller, the Olympic party boy. Sadly, Jelena Jankovic, the tennis star riveted by her own image during instant replays on the Jumbotron at last year's U.S. Open, and Madonna, who has parlayed self-absorption and exhibitionism into a multimillion-dollar career, didn't make the cut. But for Jean M. Twenge and W. Keith Campbell, psychologists and authors of ''The Narcissism Epidemic: Living in the Age of Entitlement'' (Free Press), the challenge must have been not finding examples but deciding which ones to leave out. Twenge and Campbell contend that ''the United States is currently suffering from an epidemic of narcissism.'' No argument here. But do we really need a book to tell us what the S.U.V. that's taking up two parking spaces already makes clear? As it turns out, we do.
The evidence Twenge and Campbell have compiled is compelling and appalling. Never mind the celebrities; their arrogance is equaled if not surpassed by the grandiosity of so-called average Americans. Like Allison, the Atlanta teenager featured on MTV's series ''My Super Sweet 16,'' who wants Peachtree Street blocked off for her birthday party so that she can make a ''grand entrance.'' When the planner reminds her that Peachtree is a major thoroughfare with a hospital where ambulances come and go, she replies: ''They can wait one second. Or they can just go around.''
A Web site called hotornot.com, where people post pictures of themselves for strangers to rate their sex appeal, has clocked more than 12 billion votes. A company called Celeb 4 a Day offers a package deal for a night on the town that includes six ''personal paparazzi,'' a fake publicist and a bodyguard, plus a limo and a tabloid mock-up with the client's picture on the cover. In 2006, Time magazine made ''You'' the person of the year.
Heinz Kohut, the psychoanalytic theorist, first identified narcissistic personality disorder in 1971; by 1980, it was included in the DSM-III, the official catalog of psychiatric disorders. Enough time has since elapsed that there is now an extensive body of scientific research on narcissists, their behavior and their motivations. Twenge and Campbell marshal statistics, polls, charts, studies and anecdotes to assemble a complete picture of the epidemic's current state of contagion, brought on by the Internet, reality television, a booming economy, easy credit and other developments over the past decade.
The authors dismantle the prevailing myths that have made us inclined to tolerate and even encourage narcissism: that it's a function of high self-esteem, that it's a function of low self-esteem, that a little narcissism is healthy, that narcissists are in fact superior, that you have to love yourself to be able to love someone else.
Narcissism, according to Twenge and Campbell, is ''a disease that causes others to suffer.'' The symptoms are pernicious. ''Narcissists brag about their achievements (while blaming others for their shortcomings), focus on their physical appearance, value material goods that display status … constantly turn the conversation back to themselves, manipulate and cheat to get ahead, surround themselves with people who look up to them (like a 'posse' or entourage), seek out 'trophy partners' who make them look good and jump at opportunities to garner attention and fame.'' An ideal personality profile for an ''American Idol'' contestant but probably not for a humanitarian.
Not surprisingly, the authors trace the recent rise to a shift in child rearing. Parents instill in their children the conviction that they're ''special''; 223 children born in California in the '90s were named Unique. One preschool in Manhattan designated September ''All About Me Month.'' Some children's sports leagues have stopped keeping score, for fear of hurting the feelings of the losers; others give trophies to everyone, just for being on the team. Parents flatter their children on the well-meaning but misguided grounds that ''praise builds self-esteem, which, in turn, builds success.''
Studies, however, set the record straight: children who think they're special grow up to be adults who expect success — and the money and fame it brings — to come quickly and easily, who take offense at the slightest affront to their presumed superiority, who routinely look to be the exception to the rule.
The prognosis, Twenge and Campbell tell us, isn't good. They see countertrends like the ''simplicity movement'' but no sign of a widespread backlash. Their prescriptions — saving rather than spending, practicing gratitude and mindfulness, telling children no, applauding hard work rather than talent or brains — may not go down easy with the shopaholic candidate for a tummy tuck. But if ever there was a moment when these remedies might stand a chance, the time is now. The authors' recommendation for emphasizing our similarities instead of our differences sounds remarkably like one of the themes on which our new president campaigned. And the prosperity that allows a full-blown sense of entitlement to flourish has collapsed.
But justice? Research shows that narcissists aren't as successful in the long run, and their inability to form deep and lasting relationships leaves them marooned on their own islands. But not before they've done significant damage to the people around them.
Comment to show us you are AWAKE!
+++++++++++++++++++++++++++++++++
Please Watch This Body Brilliance Movie:

Alan Davidson is the founder of ThroughYourBody.com and the author Body Brilliance: Mastering Your Five Vital Intelligences, the #1 bestselling Health & Welness book and winner of two National Book-of-the-Year awards.

Alan is also the author of the Free report "Body Breakthroughs for Life Breakthroughs: How to Peak Your Physical, Emotional, Mental, Moral, and Spiritual IQs for a Sensational Life" available at www.throughyourbody.com
Love Your Way,
www.ThroughYourBody.com
1103 Peveto St.
Houston, TX 77019
713-942-0923